I was Born and brought up in Uttar Pradesh. I currently live in Farrukhabad and take care of my parents. I completed my post graduation in Hindi Literature and Law Degree from Kanpur University. I was fond of writing poems since childhood. Wanted to become a Fashion Designer but turned out to be a criminal lawyer. After studies i worked as a sales promoter for NOKIA, as a computer teacher in APTECH, as a senior practitioner for Amazon at Concentrix, Gurgaon. Also practiced at district court as junior advocate for approximately four and a half years. When I could not relate myself to any of the fields I started writing social, political blogs on blogspot.com. Since 2016 I have been working as a freelance writer and translator. I never ever thought I would become an author or write a book. I wasn't even a reader. But here i am. Not just i started reading but also writing and now my work is reaching to the world. I am a fun loving happy person full of positivity. Read my blogs at : Blogspot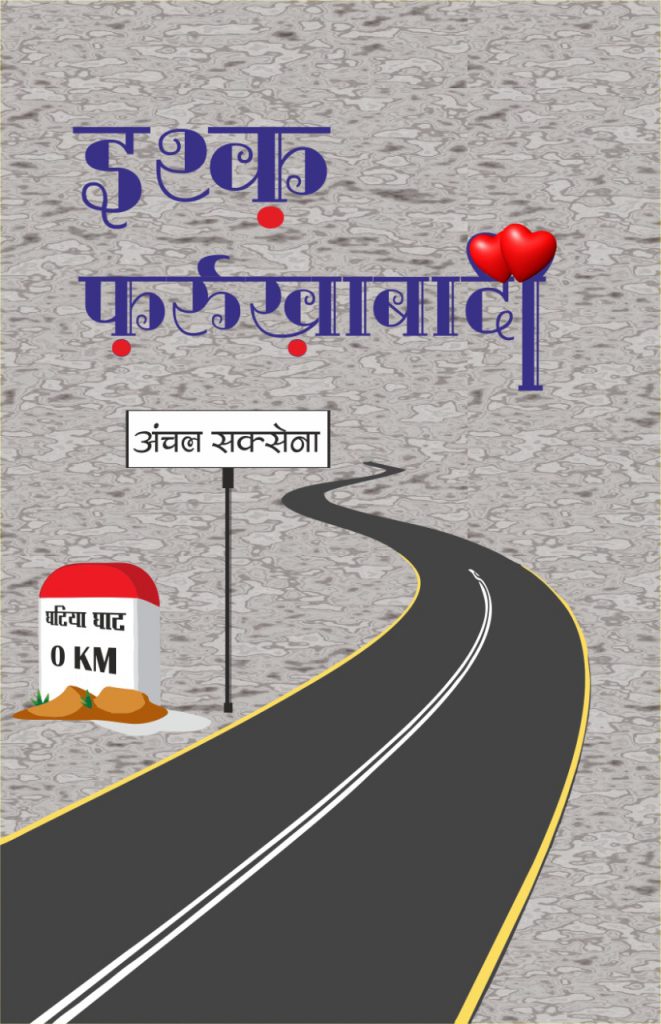 "Ishq Farrukhabadi is the fourth book of author Anchal Saksena and is filled with Love. It's a novel with love stories entangled with each other. If you loved the story of "Vishwas" and "Kamna" in her first novel "Vishwas Aur Main" you will surely enjoy this too. Once again Vishwas and Kamna are coming together with a different perspective of Love and love stories.
Readers will find a special touch of author's hometown "Farrukhabad" in this novel. Few interesting facts about the city and connection with the love stories.
Novel is filled with Love just like author's heart. Order today and swim in the ocean of Love."
SHOP ON:  AMAZON 
"Chutki Bhar Kahani" is a vibrant collection of fictional stories by Anchal Saksena. All 13 stories of this book are of different flavours and style. You will get to read about a dramatic relationship between a pen and paper, also about a little girl who faced child abuse. One story will take you in the mythological history where you can witness a short conversation of 'Lord Krishna' and 'Draupadi' and in the other you get to read a murder mystery. This book will hold you tight and won't let you loose your interest. Go ahead and buy it from Amazon. Do not forget to review it. Happy Reading…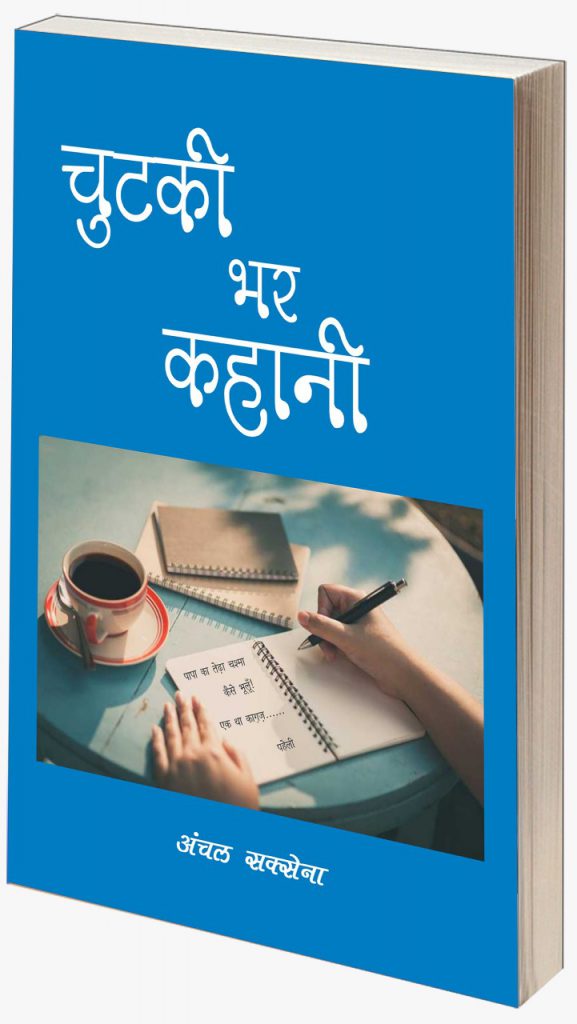 "Meri Kachehri (Nyay+aalay) is based and inspired on true events and circumstances experienced by Author Anchal Saksena during her short tenure as a lawyer at district court, Fatehgarh, Farrukhabad. This book is non fictional, witty, humorous and basically sarcastic. It is a journey of her first day till last day at court campus while being a lawyer. This book shows that not even the judiciary is free from corruption, sexism, racism and casteism. She also managed to explain the reason behind never ending trials and late decisions. She practiced as a criminal lawyer for less than five years but she gained experiences for a whole life and the same she expressed very clearly in her book. This book is not restricted to a certain audience (if you think about lawyers). This book is actually for every one of a matured age who can understand the Judiciary and it's working because not just the people working inside but we as public are also a
part of it in several ways.
Beautiful but incomplete love story of 'Vishwas' and 'Main'. A strong relationship of 13 years which could not find its destination. 'Vishwas' doesn't trust himself and 'Main' isn't ready to loose her trust on him. Friendship, Love and trust is the base of their relationship and they keep on going without naming their bond. Readers can find it either 'A complete story of an incomplete relationship' or 'An incomplete story of a complete relationship'.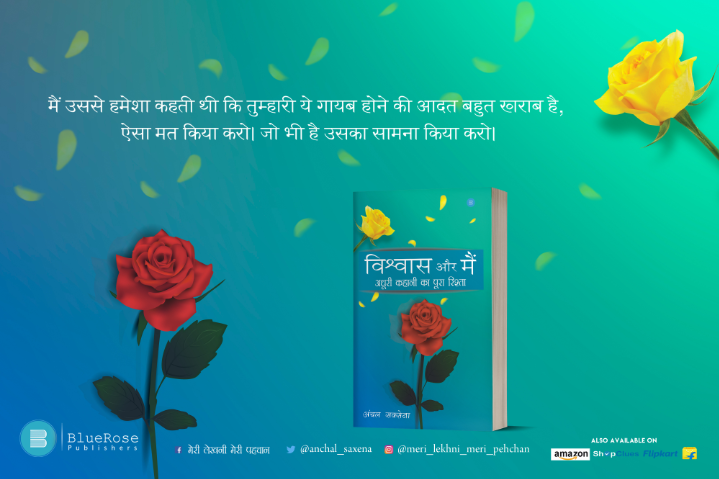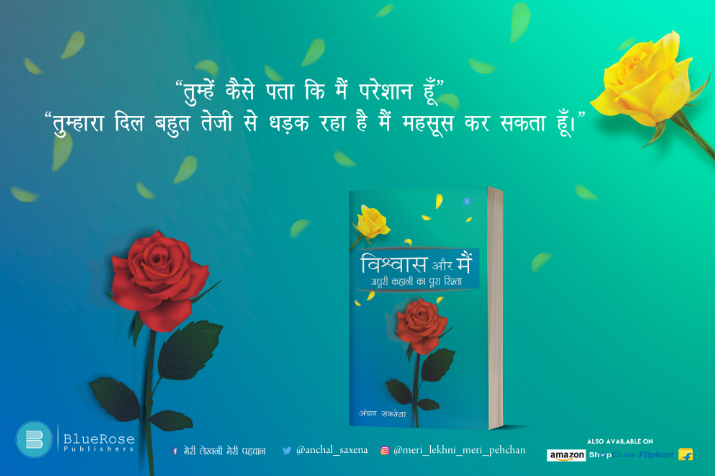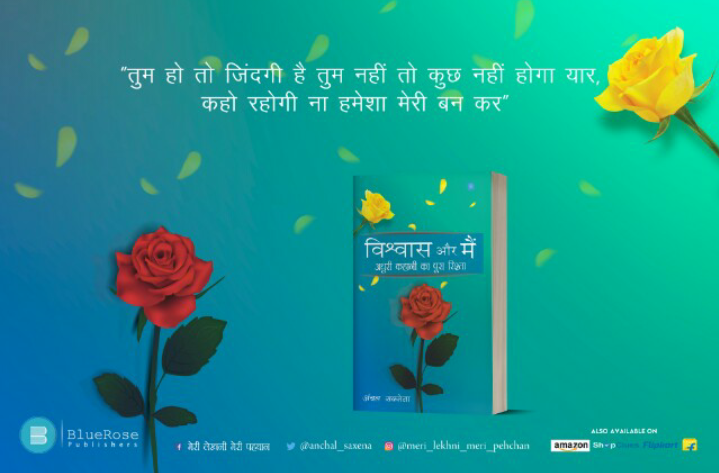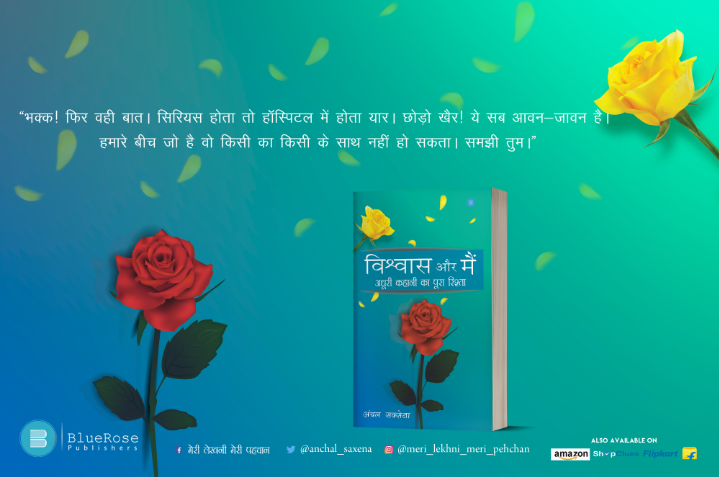 SHE CAN BE CONTACTED BY EMAIL
FOR SUGGESTIONS AND SHARING OF EXPERIENCE